Published: 16-11-2015
Crystallise's new HEOR database heoro.com, a collection of pre-screened and indexed studies on the humanistic and economic burden of disease, launched very successfully for beta testing at the ISPOR congress last week. The heoro.com database is based on a systematic search of the PubMed database for studies relevant to quality of life, costs and resources associated with diseases, economic evaluations of interventions to manage them, and mortality trends. A beta version was launched at the ISPOR European Congress in Milan last week, and proved to be very popular with attendees and exhibitors. Crystallise's Chris Martin at ISPOR 2015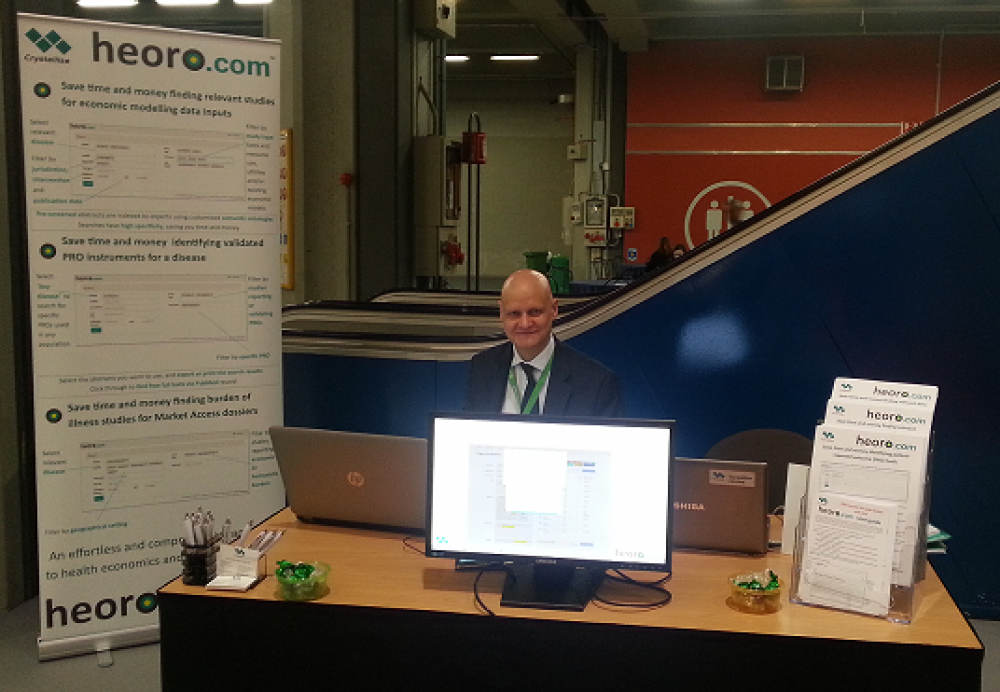 The database imports relevant studies identified by our structured search and indexes the content against a series of ontologies for diseases and populations, interventions and patient-reported outcome (PRO) instruments. We check each entry to confirm that abstracts have been indexed accurately before making the content live, using our medical training and experience conducting systematic reviews for the pharmaceutical industry. At the time of launch, the database contained 5,000 indexed abstracts from 2013-2015, and we are adding to this at a rate of 1,500 to 2,000 new abstracts per month. Delegates to the congress were very interested in how heoro.com could save them time and money in finding specific study types that can be further filtered by geographical location, study methodology and publication date. The main use cases for the database include the following:
identifying validation studies for PRO tools;
seeing in which diseases areas a specific PRO has been used;
identifying the range of PROs that have been used to assess quality of life in a specific disease;
finding disease costs and resource use in a specific jurisdiction for economic model development;
identifying utility values for a disease as data inputs for cost-utility modelling;
locating systematic reviews on humanistic or economic burden for global value dossier development;
filtering all humanistic and economic burden studies by country to develop local dossiers;
identifying studies on treatment patterns and adherence for a disease or intervention; and
tracking mortality trends for a disease across geographical settings.
Access to the beta version is free until the end of 2015, and organisations working in the pharmaceutical or finance sectors are very welcome to sign up to test the database and provide us with feedback. Either use the Subscriptions tab on the home page, or email heoro at crystallise.com to sign up for free access. We look forward to hearing from you!
---