Published: 03-08-2020
Heoro's July Paper of the Month, concluded that owning a pet dog following a cardiac event (stroke or myocardial infarction) reduced all-cause mortality, for both those who live on their own or with family.
Every five minutes someone in the UK is admitted to hospital for a heart attack, with a 70% chance of survival. Numerous studies have found that loneliness increases cardiac patients risk of all-cause mortality, one study found that loneliness doubled the risk of death (female hazard ratio = 2.92, male hazard ratio = 2.14). However, a pet may be the answer, from companionship to an incentive to exercise, pets provide a variety of benefits to life. The Centre of Disease Control (CDC) list multiple psychological and physiological advantages such as decreases in loneliness, blood pressure, cholesterol and triglyceride levels. Heoro's paper of the month, which was added to the database in July, investigated the link between dog ownership and mortality following a cardiovascular event.
Mubanga et al identified patients through the Swedish National Patients register across an 11 year time period. All patients aged 40 to 85 who experienced a myocardial infarction or ischaemic stroke were included. These patients were then cross checked with the Swedish Kennel Club to ascertain dog ownership (in Sweden all dogs and owners must be registered). Using these two registers data cox proportional hazards models were used to estimate the relationship between mortality and dog ownership.
5.7% of people who experienced an acute myocardial infarction (n=181,696) and 4.8% of those who experienced a stroke (n=154,617) were dog owners. The authors concluded that following a cardiovascular event owning a dog reduced the risk of mortality.
| | | |
| --- | --- | --- |
| | Acute Myocardial Infarction (Hazard Ratio) | Stroke (Hazard Ratio) |
| Living Alone | 0.67 (95%CI 0.61 to 0.75) | 0.73 (95%CI 0.66 to 0.8) |
| Living with Parents or Child | 0.85 (95%CI 0.8 to 0.9) | 0.88 (95%CI 0.83 to 0.93) |
Table 1 - Adapted from Mubanga et al
The results (Table 1) showed significantly reduced mortality risk after both acute myocardial infarction and stoke. The hazard ratio was lower for those living alone, but also made a significant difference for those living with partners or children. The risk of hospitalisation for recurrent myocardial infarction was also slightly reduced (HR = 0.93 95%CI 0.87 to 0.99). All hazard ratios for dog ownership and time to death are shown in figure 1.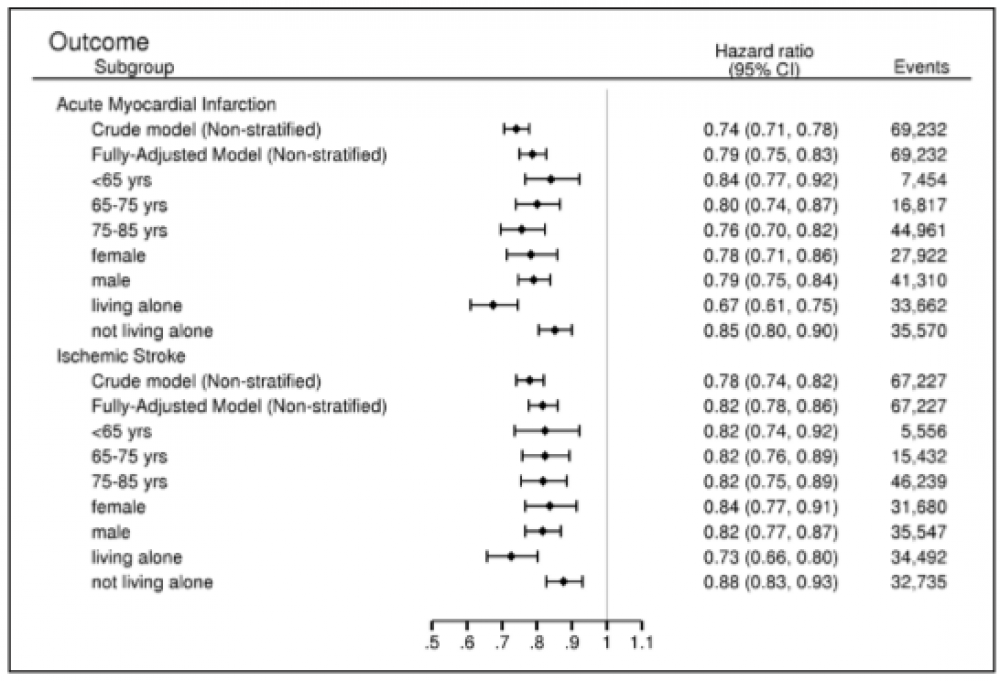 Figure 1 - Taken from Mubanga et al
However, the authors themselves highlight the previous inconsistencies of findings in older research. Similar results were found in another study, where cat ownership was found to lower the risk of cardiovascular disease/event related deaths (relative risk = 0.63 95%CI 0.44 to 0.88). However, an Australian study which looked at general health and mortality in those who owned any pet and those without, they found no significant relationship between pet ownership and all-cause mortality reduction.
This study highlights the potential benefits of a pet based interventions for those who live alone following a cardiovascular event. A pet, particularly a dog, can provide emotional support and an incentive to keep a fit and active lifestyle.
POM Citation: Nurchis, M. C. et al. (2020) 'Impact of the Burden of COVID-19 in Italy: Results of Disability-Adjusted Life Years (DALYs) and Productivity Loss', International Journal of Environmental Research and Public Health. MDPI AG, 17(12), p. 4233. doi: 10.3390/ijerph17124233. URL: https://www.ahajournals.org/doi/full/10.1161/CIRCOUTCOMES.118.005342
Holly Gould
Researcher